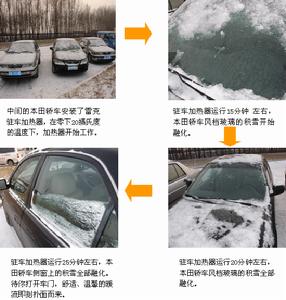 auxiliary heating system
auxiliary heating system was first popular in some European countries, due to the geographical location in some European countries winter weather is quite low. This brings to people's lives a lot of inconvenience, especially when commuting by a comfortable environment at a lower temperature into the car, which makes it difficult to adapt to, and even affect driving; Not only that, water at low temperatures frozen things have also occurred, not only causing inconvenience to the owners, but also cause some economic loss; and start the vehicle becomes strenuous. Therefore, the auxiliary heating system came into being. It can solve these puzzles people. In the northern region, particularly in the Northeast China region auxiliary heating device is very popular majority of owners, became the product of choice for high-end cars. At present auxiliary heating system in A4 3.0L and Audi A6 2.8L car using, of course, other displacement models can also install the system.
Advantages:
(1) without starting the engine, the engine and the car can be preheated in advance at the same time, allowing you to open the door in winter you can enjoy the warmth of home.
(2) Preheat more convenient, advanced remote control, timing system for car heating easily at any time, you have the equivalent of a lorry warm library.
(3) prevent the engine cold starting to wear caused. Studies have shown that a cold start engine wear and tear caused by the equivalent of normal vehicle traveling 200 kilometers, 60 percentage engine wear is caused due to the cold start. So install parking heater can fully protect the engine, extending engine life of 30 percentage.
(4) to solve window defrost, blowing snow, fog wipe struggled, eliminating the need to wear heavy clothes bring fetters. Without waiting on the train and go to provide for the occupants a pleasant, comfortable and safe driving environment.
(5) may also be implemented car in summer ventilation, to cool the cab breeze conveyor, a machine can achieve.
(6) life of 10 years, one input, byBenefits for life.
(7) compact, easy to install. Easy maintenance, removable to new vehicles
When replacing a vehicle
At present auxiliary heating system has formed a relatively complete system independent Audi and other luxury vehicles.
a highly intelligent remote control parking heater, simple operation, easy to protect your car winter of God, even at minus 40 degrees also make your car have a spring-like feel.
However, in this system do not need substantially higher temperatures Southern, for cold regions.
The main purpose (Audi A4 for example)
The main purpose is to heat the vehicle interior and help window defrost. Its auxiliary heating system and air conditioner coordination, while not directly related to the engine, because of its heat from the combustion of gasoline. Auxiliary heating system can be turned off after the engine, it may be used as an auxiliary heating during driving. The system is controlled or driver information systems for the FIS, start time and on-time duration is programmed via the menu. FIS Information displayed in the middle of learning the meter display. This program is activated by the rear center armrest following a power mirror angle and a rotation knob touch button. Can be selected immediately or set time, a maximum of 39 days in advance may be set in advance.
The auxiliary heating heating system is a completely separate system, which has a separate oil passage, and exhaust gas path. Is a specific configuration of the lead pipe to a fuel tank on a separate external pump, this pump is mounted on the fuel filter below, is controlled by a separate circuit. Tubing to be mounted in the engine compartment on the side of the power steering reservoir below (FIG. 1). Once the concrete engagement hydrocarbon combustion, the heat generated to heat and circulate the water, and finally transmitted to the cabin through the air conditioning system.
As the world leader in skylights and heating systems manufacturing, Webasto provides better comfort for a variety of vehicles, we aim to "feel comfortable ride" is not just a commitment to our customers, more is required of us. Webasto headquarters has 100 years of history in Munich, Germany, where we develop all payComfort solutions through a variety of tools, we have established in 43 countries and partners a strategic partnership, in market development, quality assurance, productivity and innovation shaping the thinking Webasto's code of conduct, on the basis of Webasto gradually developed into an international industry leader.